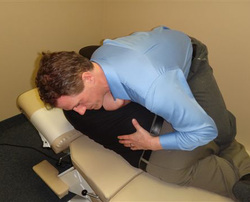 We provide treatment in the form of chiropractic manipulation, utilizing full spine diversified treatment.
We treat a wide variety of spinal and extremity neuromuscular and joint problems.  No medical referral is necessary.  We also treat ICBC whiplash injuries, WorkSafeBC injuries and sports related injuries.  Simple spinal and extremity injuries, tension or other postural related conditions are treated (corrective, palliative and maintenance care).
We utilize full spine diversified manual manipulation the majority of the time.  We also utilize Thompson (drop table) techniques as well as activator techniques (upon request) and Cox Flexion Distraction Therapy for lumbar disc decompression.